Bats
Things to Know
Bats are mammals. Mammals are warm-blooded, babies are born live and not hatched from an egg, they nurse their young, and have hair or fur. Humans, dogs, whales are types of mammals.
Bats are the only mammal that can truly fly. There are other animals that may appear to fly but they really don't. Sugar gliders and flying squirrels glide rather than fly. They glide from a high point to a low point. Bats are able to launch into flight from a still position.
Bats are mammals, not birds.
Distribution
Bats are found almost everywhere in the world except in extremely cold areas and on some remote islands. The places on Earth with no bats are the Arctic, Antarctic and a few isolated Oceanic islands.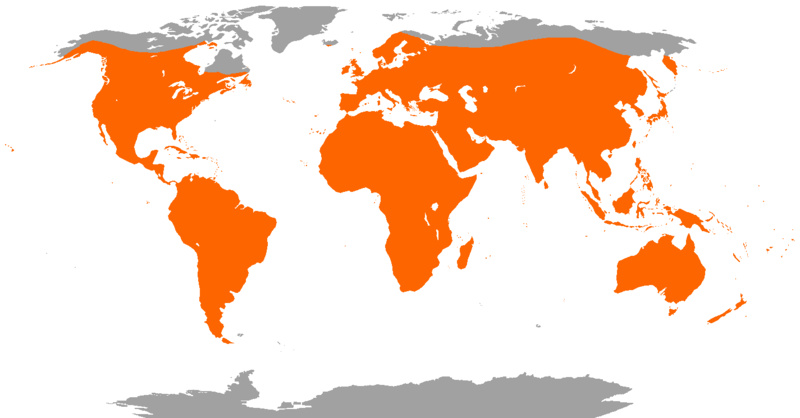 Bat Range
Bat Species
Bats are nocturnal.
Most bats are nocturnal. They spend the day grooming and sleeping. Bats hunt during the night. About 70% of bats eat insects, they come out at night to eat bugs. Most bats in the USA and UK feed only on insects.
Species
All bats belong to the scientific order Chiroptera, which means "hand-wing" in Greek. There are two suborders of bats: Megabat (Megachiroptera), meaning large bat (usually fruit eating bats) and microbat (Microchiroptera), meaning small bat (usually eats insects).
There are over 900 bat species in the world. Most bats eat insects (about 70%). Insect-eating bats are usually small in size. The kitti's hog-nosed bat, also known as the bumblebee bat, is about 1.1 to 1.3 inches (29 to 33mm) in length and weighs 0.074 oz (2 g).
Vital Ecological Role
Bats perform the vital roles of consuming insect pests, pollinating flowers and dispersing fruit seeds. Bats are important pollinators in tropical and desert climates. Most flower-visiting bats are found in Africa, Southeast Asia, and the Pacific Islands.
The Mexican long-tongued bat migrates north in the spring from Mexico into Arizona, New Mexico and Texas.