Beijing
Beijing the capital of China is situated in the northeast part of China.
Beijing covers an area of more than 16800 square kilometers (6487 square miles) and has a population of 13.82 million people.
Climate
The climate in Beijing is cold and dry in the winter and hot in the summer.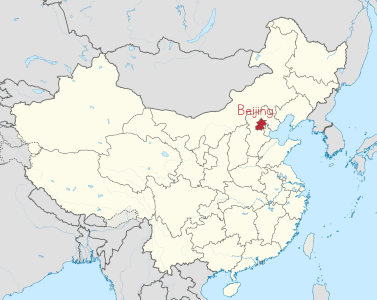 Landmarks
Beijing is centered around two famous landmarks:
Tiananmen Square and the Forbidden City.
Tiananmen Square located at the center of Beijing, with an area of 98 acres and a capacity of up to one million people, is the world's largest public square.
The Forbidden City, located in the heart of Beijing, China was the home of the emperors. Now known as the Palace Museum, it is to the north of Tiananmen Square.
Landmarks - Northwest of Beijing
The Summer Palace, lies in a northwestern suburb of Beijing. This is one of the largest and best preserved imperial Chinese gardens.
The Great Wall of China is a famous landmark that can be found in the northwest and north of Beijing.
The Ming Tombs
The Ming Tombs are located northwest of Beijing. Thirteen of the sixteen Ming emperors and their wives and second wives are buried there.
Write
Write the Chineses Character that means Beijing in red
Fun Facts
Bicycles in China are as important as cars are in the United States of America. There are so many people in China, bicycles are the best transportation.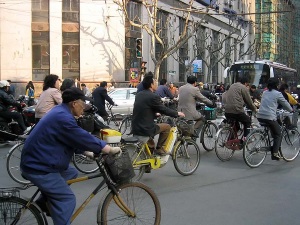 Things to Do
Online Beijing, China Jigsaw Puzzles