Easter
Five Little Easter Eggs
5 little Easter eggs,
Lovely colors wore;
Mother ate the blue one,
Then there were four.
4 little Easter eggs,
Two and two, you see;
Daddy ate the red one,
Then there were three.
3 little Easter eggs,
Before I knew,
Sister ate the yellow one,
Then there were two.
Two little Easter eggs,
Oh, what fun!
Brother ate the purple one,
Then there was one.
1 little Easter egg, See me run!!!
I ate the last one,
And then there was none.
Print the poem 5 Little Easter Eggs.
Art
Hiding Bunnies
Bunnies hiding in the grass is an easy project. On drawing paper, have children make a few strokes with a green crayon for grass and several dots of glue atop which the children then place cotton balls on. Count together how many bunnies are hiding in each child's picture.
Egg Patterns
Cut out an egg shape from white paper. It needs to be symmetrical. Fold in half lengthwise (tall and skinny). Have one student decorate with colorful collage materials or patterns and designs. Then, have them trade with another student. The second student opens the egg and continues the started pattern.
Learning Areas
Dramatic Play - Flower Shop
Plan a flower shop for the dramatic play area. Include spring plants, baskets, and Easter lilies. Use plastic/silk flowers.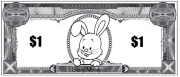 Bunny Money (pdf)
Sensory Table
Add to the sensory table:
Cotton balls with scoops and measuring cups.
Strips of green construction paper (or add scissors for children to cut up the paper) and plastic eggs.
Plastic chicks and ducks with water.
Dirt with plastic flowers and/or leaves.
For a safe inexpensive Easter grass shred colored construction paper through the office shredder! Much safer if put in mouths.
Contributed By: Jillian P
Science Area
Add to your science table:
bird nest, empty bird eggs, different kinds of baskets, newly planted seeds, flowers still in bud (children can watch them open), pussy willows.
Snacks
Bunny Food
Ideas for snacks: carrots and dip, celery with dip, lettuce salad.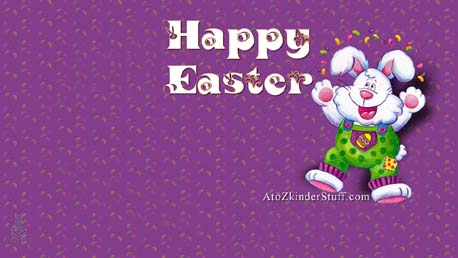 1024 x 768 or 1600 x 900
Easter desktop wallpaper courtesy of Breezy.