Hanukkah Candles
Eight little candles in a row,
Waiting to join the holiday glow.
The first night we light candle number one.
Hanukkah time has now begun.
The second night we light candles one and two.
Hanukkah's here there's lots to do.
The third night we light all up to three.
Hanukkah's here there's lots to see.

The fourth night we light all up to four.
Each now a part of the Hanukkah lore.
The fifth night we light all up to five.
Helping our Hanukkah come alive.
The sixth night we light all up to six.
Hanukkah's here there's food to fix.
The seventh night we light all up to seven.
The glow of each candle reaches to Heaven.
The eighth night we light all up to eight.
Hanukkah's here, let's celebrate!
Art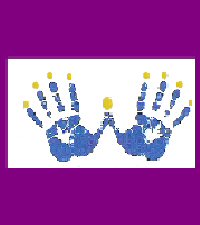 Handprints with a dark colored paint.
Yellow finger paint. Construction paper.
Chanukah Craft Projects and Coloring Pages
Make your own wrapping paper and gift containers for Hanukkah. Craft ideas for eight nights.
Chanukah Crafts
Chanukah color pages, games, puzzles, crafts, and more.
Sites to See
Torah Tots - Chanukah
History of Hanukkah, color pages, games and puzzles
HanuKat offers a playful, interactive way to celebrate Hanukkah and Passover
Recommended Books
Mrs. Greenberg's Messy Hanukkah
by Linda Glaser
This book describes a Hanukkah food - latkes. While her parents are too busy to cook, Rachel visits her neighbor Mrs Greenberg with latkes on her mind. The making of latkes creates a mess! A book about a young girl's awareness of the loneliness of Mrs. Greenburg and the patience of an adult with a young child. The pleasure of visiting a older neighbor and a gift of a warm plate of latkes to share.
Hanukkah Moon
by Deborah Da Costa
Little Isobel is invited to spend Hanukkah with Aunt Louisa. Aunt Louisa newly arrived from Mexico concerns Isobel that her Aunt will even know how to celebrate the holiday properly. Isobell learns new Hanukkah traditions infused with Aunt Luisa's artistice flair with the handmade menorah decorated with animal figures. An interesting combination of two cultures Spanish and Jewish.
Author Note: "This story reflects the celebration of the new moon that occurs during Hanukkah. This custom is popular among Sephardic Jews (those whose ancestors came from Spain), who settled in Latin America."