Hawaii
State Abbreviation: HI
50th State (August 21, 1959), Group of volcanic islands in the central Pacific Ocean U.S.
Nickname: Aloha State
Origin of Name: Possibly from "Havaiki" or "Hawaiki," which according to legend was the name of the original homeland of the Polynesians.
Motto: Ua Mau Ke Ea O Ka Aina I Ka Pono (The life of the land is perpetuated in righteousness)
Hawaii State Symbols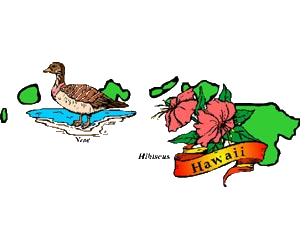 Things to Know
English and Hawaiian are official languages. English is the main language spoken in the Hawaiian Islands. Most residents of Hawaii speak English. It is commonly used by the state, business', and schools.
Hawaii is the southernmost U.S. state and the only state made up of islands. Ka Lae on the island of Hawaii is the southern most point of the USA.
The State of Hawaii is comprised of eight major islands: Hawaii, Maui, Kahoolawe, Moloka, Lanai, Oahu, Kauai, and Niiahu. 75% of Hawaii's people live on Oahu. Hawaii was originally ruled by Polynesian monarchs before it became a republic in 1894.
Major Rivers: Wailuku River (on the island of Hawaii), Anahulu River (on the island of Oahu)
Recommended Book
Kamehameha: The Boy Who Became A Warrior King
by Ellie Crowe
An award winning book with gorgeous artwork that tells the story of Hawaii's first king, this book chronicles the life of King Kamehameha I from childhood to his ascension to becoming one of Hawaii s greatest kings.
Music
The ukulele originated in the 19th Century as a Hawaiian interpretation of small Portuguese guitar-like instruments.
Language
Find your Hawaiian name!
The Hawaiian alphabet has only 12 letters: a, e, h, i, k, l, m, n, o, p, u, w. Learn what your name is in Hawaiian and how to pronounce it.