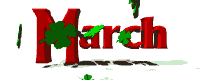 American Maid: Growing Up Female in Life and Literature
Yale-New Haven Teachers Institute has ten literature-based women's history curriculum units for grades 3 to 12.

Florence Nightingale (grades 1-3)
A mini-unit on Florence Nightingale with activities and a health unit on germs.

Color and cut out paper dolls of famous women:
Florence Nightingale

Harriet Tubman (K-4
*Youth Art Month
Create

Georgia O'Keeffe: Abstract Flowers
Easily create flowers.

Dirt, Caves and Art (Cave Painting)
Create your own "prehistoric paint".

Color

A to Z Kids Stuff Quilt Color Pages

Pablo Picasso painting Child with Dove

Michelangelo: The Delphes Sylphide

Explore and Learn

Exploring Leonardo
Learn about Leonardo da Vinci-scientist, inventor, and artist.

Destination Modern Art
Explore modern art in an interactive online gallery.
Parent Survival Kit
Place in a bag for each parent the following: a rubber band, a tissue, a button, a toothpick, a band-aid, candy hugs, a gold thread, a eraser, lifesaver candy, a mint, and the parent survival kit paper

A new window will open. Before printing under File in Page Setup set margins to zero.
*Hina Matsuri-Doll Festival or Girls' Festival (Japan)
Families with young daughters mark this day by setting up a display of dolls inside the house. The dolls wear costumes of the imperial court during the Heian period (794-1192) and are placed on a tiered platform covered with red felt.

Tissue Peach Blossoms
Make tissue peach blossoms-the flowers traditionally associated with Doll's Day.

Use a brown crayon to draw bare branches on pieces of light blue construction paper. Hand out the papers with squares of peach colored tissue paper. Let the children tear the tissue into tiny pieces. Then have them spread small circles of glue on their branches and press bits of tissue all over the glue to create fluffy blossoms. Use the finished pictures to decorate a wall or a bulletin board.

Doll's Day Party
Arrange cardboard boxes to make a staircase like stand and cover it with red crepe paper or cloth. Invite each child to bring in a favorite doll or toy to display on the Doll's Day stand. When the display is ready, have the children gather around the stand and take turns telling something about the dolls or toys they brought.

Dancing Dolls
Let the children pretend to be Doll's Day dolls that have been packed away in their boxes for the year. Have them lie down on the floor. Then play recordings of Japanese music to signal that Doll's Day has arrived. Have the "dolls" hop up out of their boxes and dance as long as they hear the music. Whenever the music stops, have them get back down into their boxes and lie still.

Doll's Day Snack

The traditional treats for Doll's Day are pastel colored candies and rice cakes. For a sugarless alternative use small cookie cutters to cut shapes out of bread slices (or cut sandwiches diagonally to create triangle sandwiches).

In separate bowls whip cream cheese and add drops of food coloring to create pastel shades. Spread the cheese on the bread shapes and arrange them on small paper plates. Serve with thin melon slices.

For added fun make tables by placing cardboard boxes upside down on the floor and setting them with colorful placements. Then let the children take off their shoes and sit around the tables while enjoying their Doll's Day snacks.

*Other Sites

Japan's Hina Matsuri Festival
Make a Hina-Ningyo display form recycled boses to dispaly dolls on.

Emperor Origami for Hina Matsuri
Empress Origami for Hina Matsuri
Easy origami to print and make
Who was Alexander Graham Bell?
Learn more about Alexander Graham Bell, the inventor of the the telephone.

PBS-The Telephone
PBS-More About Bell
Read about Alexander Graham Bell.

My Spring Time Coloring Book from Bry-Back Manor.
Spring time color pages to print and color.

See also A to Z Kids Stuff Spring (preschool and kindergarten)
A to Z Kids Stuff Spring (schoolage)

________________________________________________________






Follow Us


---

| | | | |
| --- | --- | --- | --- |
| | | | |