Make
Flowerpot


Need: terra cotta pots(1 pot per child), construction paper scraps, black markers, decoupage or white glue, silk flowers, foam brick (green).
Place tape on the bottom of each flowerpot to write the child's name on. Have children tear construction into small pieces and glue onto the flower pots. After gluing children take a black marker and trace around the each piece scrap construction paper that is on the flowerpot.
After the children have finished their flowerpots an adult needs to give each pot 2 coats of decoupage (available in craft stores) or 2 coats of white glue. Let dry.
Have a bunch of silk flowers for the children to pick from. Place a piece of foam brick in each pot and have the children push their flowers into the brick. Can add green grass under the flowers.
Note: Parents will love this gift as it looks fantastic!
Desktop Wallpaper
Hand Print
Need: playdough, plaster of paris, styrofoam or meat tray
Take a clean tray and place on table. Place playdough in container and shape to the size of tray. Leave a edge of playdough around the tray. This keeps the plaster of paris from running out.
Next place a child's hand in the playdough making a deep impression in the playdough. Then mix the plaster of paris and pour into the tray covering the handprint. Let this dry. This depends on how thick the plaster is when you mixed it. When dry you can peel the playdough from the plaster. This will leave a handprint for you to decorate any way you wish.
Contributed by: Irma Feurer
Desktop Wallpaper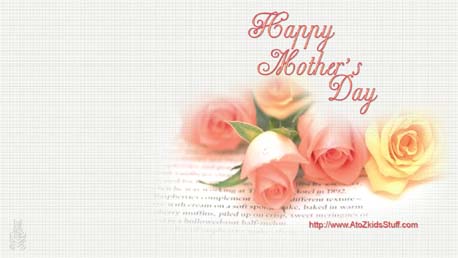 1024 x 768 or 1600 x 900
Mother's Day desktop wallpaper courtesey
of Wallpapers by Breezy
Recommended Books
Mom School
by Rebecca Van Slyke
An adorable picture book told from the perspective of a young child that her Mom must have learned all her mothering skills by attending Mom School. A school where mom's learn to multi-task, build forts from couch cushions, and bake yummy cupcakes.
Fun and engaging art with text that perfectly captures the view of a young child. A variety of unique moms are shown throughout the story. A perfect book for Mother's Day.
Mama, I'll Give You the World
by Roni Schotter
After school Luisa goes to where her Mama works. She watches as her Mama works hard at cutting, coloring , and curling customers' hair. Her Mama works hard and rarely smiles. Luisa would like to see her mother smile as she does in Luisa's favorite photo of her.
Luisa plans a night to make Mama smile. The way she is smiling in the old photograph while she is dancing at a place called Roseland.
A tale of a hardworking mother and her loving thoughtful daughter. A tear jerker and a story that you will remember.
Follow Us
Click here to include your favorite Mother's Day activity in this theme!