Swenden
Kingdom of Sweden
Konungariket Sverige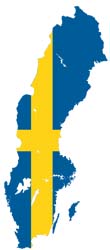 Things to Know
A constitutional monarchy
A member of the European Union since 1995
Capital: Stockholm
Part of Scandinavia in the
northern part of Europe.
Banknotes of Sweden (Kronor)
Languages:
Swedish, small Sami- and Finnish-speaking minorities.
Animals
Reindeer: Reindeer and the Sami People
Today, wild reindeer are no longer found in Sweden. All reindeer in Sweden are herded by the Sami people.
Facts about reindeer .

Moose are one of the most common animals in Sweden. Sweden has the highest population density of moose in the world.

Brown Bears lives in the northern parts of Sweden.

Nature - An Overview of Swedish wildlife.
Climate
Mild weather in the summer and cold in the winter.
Subarctic in the north.
Land
Sweden is mostly flat with mountains in the west. There are numerous lakes and forest throughout Sweden.
Viking
The Viking period in history stretches from about 790 C.E.. to 1100 C.E. The Vikings originated from Scandinavia in what are now the countries of Norway, Sweden, and Denmark.

BBC-History For Kids
With your guide Thorkel explore the Viking world and visit the Viking house to spot the items that don't belong.

The Vikings
A site by 3rd-5th graders on the Vikings.

Explore a Viking Village
Explore online a medieval Viking village that archeologists recently excavated near modern-day Stockholm.

Write Your Name in Runes
Just type in your name and press go to see what your
name is in the Runic Alphabet.
Scientists
Anders Celsius,
invented the Celsius temperature scale.

Alfred Nobel , invented dynamite and established the Nobel Institute.
Writers
Astrid Lindgren created the world famous "Pippi Longstocking."

Selma Lagerlöf wrote The Wonderful Adventures of Nils ( read online ). She is the first woman writer to win the Nobel Prize for Literature.
Games
Read
The Sami People , the indigenous (native) people of the north of the Scandinavian peninsula.

Telling Time without a Clock : Scandinavian Daymarks
Fun Facts
Land of the Midnight Sun
In the area above the Arctic Circle, the sun never sets from
mid-May until mid-June.
Color Pages
Make
Recipes
Wallpapers