Switerland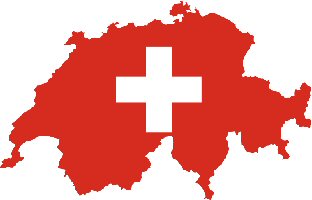 Things to Know
Swiss Confederation
Federal Republic
Capital: Bern
Switzerland is a small, landlocked
country in Central Europe.
Since the 19th century, Switzerland has followed a policy of neutrality, which means that it has not been involved in wars between other nations

Official Languages: German (Swiss German), French, Italian, and Romansch.
Religion: The majority of the Swiss are either Catholic or Protestant.

Currency: Swiss franc (CHF).
Animals
Chamois (horned goat antelope related to goats but having antelope-like features) and marmots (ground-dwelling rodents).

The International Canine Federation (FCI) has attributed seven breeds of dogs origin to Switzerland.Four breeds of cattle dogs: Bernese Mountain Dog , Appenzell Mountain Dog , Entlebuch Cattle Dog , and Great Swiss Mountain Dog . One breed of large, mastiff-type mountain dog ( St. Bernard Dog ), and two breeds of scent hound Swiss Hounds and Smaller Swiss Hounds).

One of the Swiss mainstays is dairy farming and this country is home to some of the best cheeses that can be found.
Climate
Winters are long and snowy in the mountains, while the valleys have fog and rain. Summers are usually mild.
Land
Switzerland is known for its high mountains, the Alps (in south) and Jura (in northwest) with a central plateau of rolling hills, plains, and large lakes. The Alps are a row of mountains dividing southern Europe from Northern Europe.

The Matterhorn is one of the most popular mountains in the alps.

Mont Dolent is a mountain that lies on the border of Italy and Switerland, and close to the border with France. It is is the only Alpine peak shared by three countries.
Plants
Switzerland ranks second with Germany as the most densely forested country in Europe. In the Swiss plateau and lowlands grow many varieties of plants and trees (palm, magnolia, chestnut, walnut, apple, pear, cherry). Deciduous forests of beech, maple, and oak are characteristic below about 1,400 m (about 4,500 ft), and coniferous forests, primarily of pine and fir, flourish above that height. At higher elevations, the flora consists of Alpine species such as edelweiss, anemone, lily, and Swiss pines.
Cantons
Swiss Cantons
A Canton is one of the states of the Swiss confederation.
There are 26 cantons.

Explorers
Sir Edward Whymper
The first men who managed to climb to the top of the Matterhorn.
Games
Canton Game
Do you know the Swiss cantons? Click on the map, then drag and drop the shields into the correct location.
Stories
The Story of William Tell

Legend of Wilhelm Tell the Swiss Hero

Heidi by Johanna Spyri
A classic story of a young orphan sent to live with her grumpy grandfather in the Swiss Alps.

Heidi e-book (read online or print)
Read
Henri Nestle started the Nestle Company.

Henri Dunant started the International Red Cross in 1863.
Artist
Alberto Giacometti
Painter and sculptor.

Paul Klee
Expressionist painter known for the fine lines and geometry in his watercolors and illustrations.



Games
Canton Game
Do you know the Swiss cantons? Click on the map, then drag and drop the shields into the correct location.
Fun Facts
Alphorn a wooden horn from 3 ft to 12 ft (91 cm–3.7 m) long, sometimes curved slightly, with conical bore and a cup-shaped mouthpiece. In Switzerland it is used to call cattle and to entertain tourists.

Saint Gotthard Automobile Tunnel in Switzerland is 10 miles (16 km) long , took 10 years to construct, and is the longest in the world.

Switerland is famous for its mountains, chocolate, cheese, banking, Swiss guards, Swiss army knife, and expensive watches.
Yodel
Yodel ('til you get polyps)
The "world's first animated, interactive singing page" includes aYodel Jukebox with 12 selections.
Color Pages
Make
Make your own shields (coats of arms).

Paul Klee Abstract Castles
Draw a castle of geometric shapes.
Paul Klee's Castles

.

.

Paul Klee Oil Pastel Klee Portrait

.

.

.

Paul Klee Name Art
Name art inspired by Klee

.

.

Paul Klee Cats
Use white felt and watercolors to create
Klee Cats

.

.

.
Puzzles
Recipes
Swiss dishes borrow from the best of German and French cuisine.

Switzerland is famous for its delicious chocolate.

Cheese fondue is considered by many to be the national dish of Switzerland.

Switzerland Recipes
From breads to fondue and more.
Wallpapers
.

_____________________________________________________________






Follow Us


---

| | | | |
| --- | --- | --- | --- |
| | | | |