1st - George Washington: Father of Our Country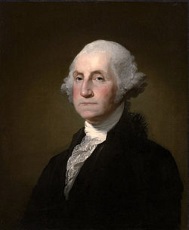 (February 22, 1732 – December 14, 1799)
"I walk on untrodden ground. There is scarcely any part of my conduct which may not hereafter be drawn into precedent."
-George Washington
George Washington took the oath of office as the first President of the United States on April 30, 1789 on the balcony of Federal Hall on Wall Street in New York. George Washington was one of the Founding Fathers of the United States of America. Hew was a ware hero, a great president and more.
Washington set the precedent for having a cabinet, a group of advisors. Two of Washington's personal friends were his most famous advisors: Alexander Hamilton, first secretary of the treasury, and Thomas Jefferson, first secretary of state. Although both men were friends of Washington they disagreed politically and did not like each other. Jefferson eventually would resign as secretary of state.
The precedent of a president severing only two terms was set by Washington. He did not want to stay president too long as he thought it was important that a president did not become like a king. He felt that there should be a limit on the amount of time a person served as president so that he would not grow too powerful.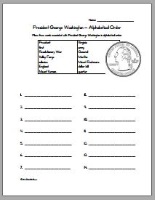 George Washington - Alphabetical Order
Sites to See
My Book About George Washington
Create a mini-book about George Washington.
Rules of Civility
Washington's schooling, done mostly at home, included mathematics, geography, surveying, and the "Rules of Civility." George copied these rules of behavior to practice his handwriting, and to learn how he was expected to behave.
Mt. Vernon
George Washington's home. Available are educational resources and student resources.
3rd - Thomas Jefferson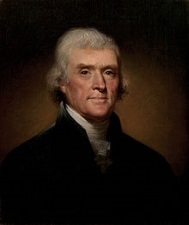 (April 13 1743 – July 4, 1826)
"I would rather be exposed to the inconveniences attending too much liberty than to those attending too small a degree of it."
- Thomas Jefferson
Thomas Jefferson was the third President of the United States of America. As President, his greatest accomplishments was doubling the size of the United States with the Louisiana Purchase from France.
Sites to See
Biography of Thomas Jefferson
Thomas Jefferson-Social Studies for kids.

Thomas Jefferson Papercraft Print the template and make.
"We hold these truths to be self-evident: that all men are created equal; that they are endowed by their Creator with certain unalienable rights; that among these are life, liberty, and the pursuit of happiness."
- Thomas Jefferson
Thomas Jefferson was a farmer, architect, inventor and scientist. He developed the decimal system of coinage that is the basis of American money--dollars and cents.
He designed the Virginia Capitol, the University of Virginia, and Monticello (his home). Take a virtual tour of the home of Thomas Jefferson-Monticello.
Book Review
"A Rich Spot of Earth": Thomas Jefferson's Revolutionary Garden at Monticello by Peter J. Hatch
A book that is absolutely beautiful and fascinating. Thomas Jefferson's vegetable gardens at Monticello were painstakingly restored to their 1812 appearance by Peter J Hatch. Hatch's book tells the history of Jefferson's 1,000-foot terraced vegetable garden the plants and Jefferson's experiments.
From Jefferson's planting of asparagus and artichokes to the hundreds of varieties of vegetables Jefferson grew. Many topics are explored: garden pest, labor, seed and saving practices. The cuisine Jefferson developed and the gardening traditions adapted from other countries. The plants he grew that were not common in America at that time: okra, eggplant, peppers, tomatoes, brussel sprouts and more. The book also contains nearly 200 full-colored illustrations.
16th - Abraham Lincoln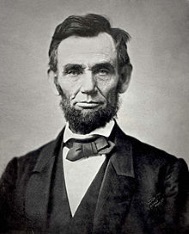 (February 12 1809 – April 15, 1865)
"Four score and seven years ago our fathers brought forth on this continent, a new nation, conceived in Liberty, and dedicated to the proposition that all men are created equal."
-Abraham Lincoln
"Things may come to those who wait, but only the things left by those who hustle."
- Abraham Lincoln
Abraham Lincoln is one of the most famous presidents ever. He kept the country together and shaped the course of American history through the crisis of the American Civil War. Lincoln was assassinated on April 14, 1865, shortly after the end of the war.
Activities
Shine up the Lincoln Penny
Set out containers of with each of the following: water, soapy water, vinegar, and lemon juice. In each container place some pennies to see which substance will shine the pennies up best.
Lincoln Log Cabin
A simple-to-make Lincoln Log Cabin using craft sticks.
Lincoln's Hat Shape-book
without lines with lines
Lincoln Logs were named after President Abraham Lincoln.
See to See
Presidential Places Quilt (Grade 3 to 6)
Research landmarks in Washington, D.C. that have particular associations with past presidents (Lincoln and Ford's Theater, for example). Create "quilt squares" illustrating these landmarks and historical stories and combine those to into a quilt. The finished quilt may be photographed; the photograph and student writings may then be mailed to the president.
Ben's Guide to U.S. Government for Kids
Benjamin Franklin is your guide throughout this site. Learning tools for K-12 students, parents, and teachers. Learn about Benjamin Franklin and how our government works.