Alabama
State Abbreviation: AL
Capital: Montgomery
Nickname: The Yellowhammer State, The Heart of Dixie, The Cotton State
Origin of Name: Choctaw tongue, translates the name as thicket clearers.
Motto: Audemus jura nostra defendere - We Dare Defend Our Rights
Alabama State Symbols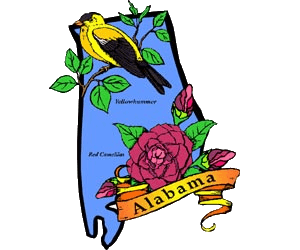 Things to Know
Alabama was home to the Creek Indians. The first known European explorers were of Spanish descent and arrived at in the 1500s, and later the French and English settled here. After the French and Indian War (1763) France gave its territory to England, but Spain held claim to the territory around Mobile.
In 1783, which officially ended the American Revolution, Spain gained Mobile, and the new United States received the rest of the present-day state. America in 1813 claimed Mobile as a part of the Louisiana Purchase of 1803, and drove the Spanish out of the area.
The Creek Indians lost their hold on the land due to General Andrew Jackson. Alabama was part of the Confederacy during the Civil War. In 1965, the Civil Rights Movement got its start in Montgomery when Rosa Parks refused to give up her seat to a white person.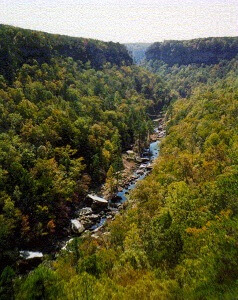 Little River Canyon
Famous Alabamians
Helen Keller, 1880-1968, author and educator about blindness
Coretta Scott King
Civil rights leader (with her husband, Martin Luther King, Jr.), Marion.
Rosa Parks, 1913-2005,
Civil rights leader who refused to give up her bus seat to a white man, Tuskegee.
Hank Aaron, 1934
An American baseball player and member of the Baseball Hall of Fame. Aaron is best known for setting the Major League Baseball record for most home runs in a career (755).