Arizona
48th State (February 14, 1912), southwest U.S.
State Abbreviation: AZ
Capital: Phoenix
Origin of name: Arizona comes from two Papago Indian words meaning "little spring" or "young spring"
Motto: Ditat Deus (God Enriches)
Nickname: Grand Canyon State
Arizona State Symbols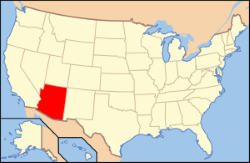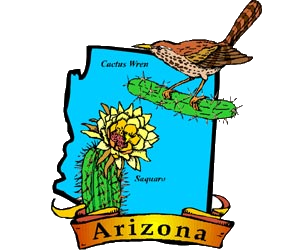 Things to Know
United States Senators from Arizonia.
Arizona is home to many Indian cultures such as the Apache and the Navajo. Arizona has the largest Native American population of any state. More than 14 tribes are represented on 20 reservations, including part of the Navajo Nation, which is located in the Four Corners region of Arizona, Colorado, New Mexico, and Utah.
Spanish treasure seekers from Mexico arrived in the area in the 16th century, thus establishing Mexico's claim to the area. The area was ruled by Spain until Mexico won its independence in 1821. Mexico ceded the territory to the United States as part of New Mexico during the Mexican-American War of 1848. The Gadsden Purchase, an area south of the Gila River, was added in 1853. Arizona was organized as a territory in 1863 and became the 48th state in 1912.
The Gila Monster Lizard is named for the Gila River in Arizona.
Arizona is full of beautiful natural attractions like the Grand Canyon and the Petrified Forest. It is also home to the old London Bridge.
Major Rivers: Colorado River, Little Colorado River, Gila River, Bill Williams River.
Famous Arizonans
Grand Canyon
The Grand Canyon carved by the Colorado River is a remarkable unique landscapes. It is one of the Earth's few natural landmarks visible from space. It is one of the largest canyons in the world. The Grand Canyon is 277 river miles (446km) long, up to 18 miles (29km) wide, and a mile (1.6km) deep.
Meteor Crater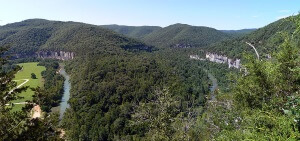 the Ozarks from the Buffalo National River, Newton County, Arkansas
Sonoran Desert
The Sonoran Desert is located in two states (Arizona and California) and two countries (United States and Mexico). It covers approximately 100,000 square miles (258,000 square kilometers).
The Sonoran Desest is the hottest of the North American deserts. the Sonoran Desert is amongst the wettest deserts in North America.
Sites to See
GilaBen
A fun and informative site on Arizona history, with printouts and more for 3rd and 4th-grade students and educators. Inclues a Arizona Fun & Facts coloring book.