California
31st State (September 9, 1850), the west coast U.S.
State Abbreviation: CA
Capital: Sacramento
Origin of name: Named by the Spanish after Califia, for the mythical earthly paradise in a book called Las Sergas de Esplanidian, written by Garcia Ordonez de Montalvo in 1510.
Motto: Eureka (I Have Found It)
Nickname: The Golden State
California State Symbols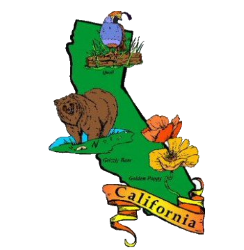 Things to Know
United States Senators from California.
Death Valley
A desert located in the southwestern United States. It is situated within the Mojave Desert and features the lowest, driest, and hottest locations in North America. Badwater, a basin located within Death Valley has thelowest elevation in North America at 282 ft (85.5 m ) below sea level.
Mt. Whitney
The highest point in the continental United States (which doesn't include Alaska and Hawaii) is also in California - Mt. Whitney, which is 14,496 feet (4418.38 m) above sea level.
Major Rivers: Colorado River, Sacramento River, San Joaquin River,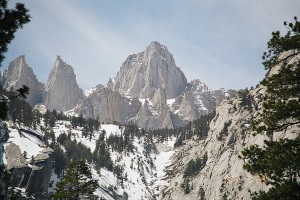 Mount Whitney
Native Americans of California
Sites to See
California Shipwrecks
Online database of California shipwrecks. Articles and stories about more than a dozen California shipwrecks. Video and audio clips relating to California maritime history.