Massachusetts - School-Age
Massachusetts
6th State (February 6, 1788), New England
State Abbreviation: MA
Capital: Boston
Origin of name: From Massachusetts tribe of Native Americans who lived in the Great Blue Hill region, south of Boston. The Indian term means "at or about the Great Hill".
Motto: Ense petit placidam sub libertate quietem (By the sword we seek peace, but peace only under liberty)
Nickname: Bay State, Old Colony State, Puritan State, Baked Bean State.
Massachusetts State Symbols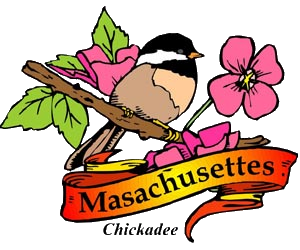 Folk Dance: Square Dance
Folk Hero: Johnny Appleseed
Folk Song: Massachusetts, words and music by Arlo Guthrie
Fossil: Theropod Dinosaur
Game Bird: Wild Turkey
Gem: Rhodonite
Glee Club Song: The Great State of Massachusetts
Things to Know
The Pilgrims left Europe in 1620 to seek religious freedom. They made a treacherous voyage across the Atlantic Ocean on a ship called the Mayflower. The Mayflower was named after a flower known as "Trailing Arbutus," an evergreen with a white flower that has a pink center. The Pilgrims established their settlement at Plymouth, MA in 1620.
They were followed shortly by the Puritans, who established the Massachusetts Bay Colony. The Puritans named their colony after a local Indian tribe whose name means "a large hill place." The birthplace of many of the ideals of the American Revolution, Massachusetts attracted people who believed in self-government.
Massachusetts became a leader in resisting British oppression. In 1773, the Boston Tea Party protested unjust taxation. The Minute Men started the American Revolution by battling British troops at Lexington and Concord on April 19, 1775.
Massachusetts produces the nation's largest cranberry crop.
Fenway Park in Boston, Massachusetts opened on April 20, 1912 and is major league baseball's oldest ballpark.
Massachusetts is home to 150 public and private institutions of higher learning and is recognized worldwide for its academic heritage and reputation. Some of the well-known ones are Harvard, MIT, Holy Cross, Tufts, Boston College, Boston University, and the University of Massachusetts.
Presidents From Massachusetts
Famous Bay Staters
Samuel Adams (1722 - 1803), American Revolutionary patriot and statesman, signer of the Declaration of Independence, and governor of Massachusetts.
Benjamin Franklin, (1706 - 1790), printer, author, philosopher, diplomat, scientist, and inventor.
John Hancock (1737 - 1793), merchant, statesman, first signer of the Declaration of Independence, and first governor of the state of Massachusetts.
Sites to See
Read The Ladybug Story
The true tale of how a group of school children used the legislative process to make the ladybug the Official Bug of the State of Massachusetts.