Michigan
26th State (January 26, 1837), the midwest U.S.
State Abbreviation: MI
Capital: Lansing
Origin of name: From Chippewa words mici gama, meaning "great water," after the lake of the same name.
Motto: Si Quaeris Peninsulam Amoenam Circumspice, which is Latin for "If you Seek a Pleasant Peninsula, Look About You.
Nickname: Great Lakes State, Wolverine State, Water Wonderland
Michigan State Symbols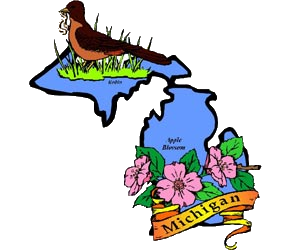 Things to Know
Michigan is the nation's number one cherry producing state. Michigan produces 70 to 75 percent of the tart cherries grown in the United States.
Battle Creek is called the "Cereal Bowl of America." Today, Battle Creek produces more breakfast cereal than any other city in the world. Kellogg
Great Lakes
The Great Lakes contain the largest supply of fresh water on earth; 20% of the earth's total fresh water. Only the polar ice caps contain more fresh water.
There are five Great Lakes.
To remember the Great Lakes names, remember the word "HOMES."
H=Huron
O=Ontario
M=Michigan
E=Erie
S=Superior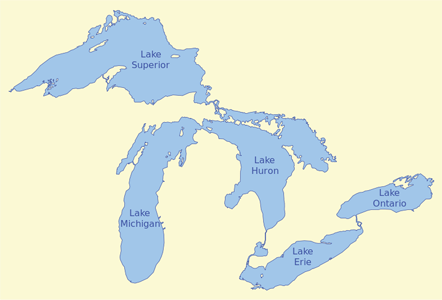 Mackinac Bridge
Michigan is divided into two large land segments: the Upper and Lower peninsulas. The two peninsulas of Michigan are separated by the Straits of Mackinac (pronounced "Mack-i-naw"), which links Lake Michigan and Lake Huron.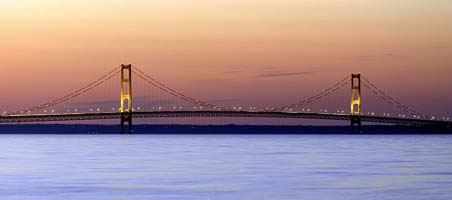 The Mackinac Bridge extends over the Straits of Mackinac. The 5 mile long Mackinac Bridge (Big Mac) links Michigan's Lower and Upper peninsulas. The Mackinac Bridge is the one of the world's most beautiful bridges. It is the third longest suspension bridge in the world and the longest suspension bridge in the western hemisphere.
Famous People From Michigan
Charles A. Lindbergh aviator, born in Detroit (1902 - 1974).
Famous for being the first person to cross the Atlantic ocean in an airplane non-stop.
Dr. Ben Carson, Pediatric Neurosurgeon (1951-)
An inspiring life from his childhood in inner-city Detroit to director of pediatric neurosurgery at Johns Hopkins Hospital.
Kid Rock, singer and musician (1971-)
Mastodon
Mastodon Trackway
The mastodon trackway is a set of preserved mastodon footprints found near Saline, Michigan.
Mastodon Pictures and info on the Mastodon found near Lennon, Michigan by zoologist, George Buck, of Flint, Michigan, in 1962.
Mastodon Fact Sheet
Print and color the mastodon fact sheet.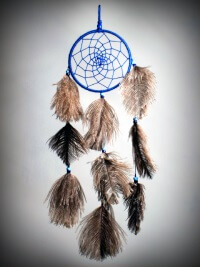 Dream Catcher
Ojibway Dream Catcher
Need: wire hanger, flannel strips (brown or tan), string, beads, feather.
Shape wire hanger into a circle. Wrap the hanger with flannel strips and tie. Tie on beaded strings and criss-cross through the inner circle of the hanger to make a web. Tie on feather at the bottom.
Things to know: The Ojibway tribe of the Great Lakes and northern plain regions believed that the night was filed with the spirits of dreams. They suspended dream catchers above the beds of their children. The web of the dream catchers trapped bad dream spirits. Good dreams passed through the web and floated down to the sleeping children.