Vermont

---

14th State (March 4, 1791),

the northeast U.S. New England Region.
State Abbreviation: VT
Nickname: The Green Mountain State
Origin of name: From the French vert mont, meaning green mountain.
Vermont is the 14th state. It is the smallest landlocked U.S. state.
Things to Know
United States Senators from Vermont.

A major industry in Vermont is maple syrup.
Maple sugaring history at University of Vermont
Cornell Sugar Maple Activities
Learn more about sugar maples trees, maple syrup production.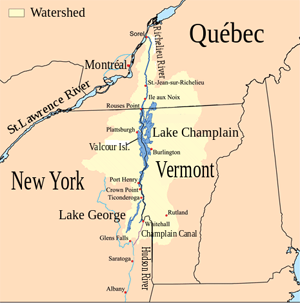 The light house in lake Champlain

at dusk as seen from

Burlington VT.


Bodies of Water: Lake Champlain is the largest lake in New England. It was named after French explorer Samuel de Champlain. Lake Champlain contains one peninsula and a cluster of islands. It is in the United States (the states of Vermont and New York) with a small portion in Quebec, Canada.


Vermont is the only state that designated a fossil symbol of a species that still exists. The state fossil, the beluga whale skeleton was found in a farmer's field in western Vermont in 1849. The story of Charlotte the Vermont whale.



Famous Vermonters
Chester A. Arthur (1829–1886), 21st President
Printable fact sheet on President Chester A. Arthur
provides you with photos and personal information.

Calvin Coolidge (1872–1933), 30th President
Printable fact sheet on President Calvin Coolidge
provides you with photos and personal information.

Ethan Allen- early American revolutionary (1738 –1789)

Wilson A. Bentley-The Snowflake Man (1865–1931)
Wilson Bentley photographed over 5000 snowflakes and perfected the innovative photomicrographic techniques. He was the first person to realize that no two snowflakes are alike.
Bentley Snow Crystal Collection of the Buffalo Museum of Science is a online digital library providing a high-quality collection snowflake photographs. Smithsonian Image Gallery: Wilson Bentley Snowflake images.

Zerah Colburn-math prodigy (1804-1840)
Zerah Colburn was known as the mental calculator and was able to multiply numbers such as 13 and 97 in his head.

Henry M. Leland--Automotive Innovator, founder of Cadillac and Lincoln (1843–1932)

John Deere, Inventor and manufacturer.

Games to Play
John Deere Kids-games, activites, and stories.
Things to Do
Sites to See
The Vermont History Explorer website is information about Vermont history--articles, photographs, and historic documents. This colorful, interactive site is designed for children, specifically students in grades 3 through 6. Resources for teachers and parents are also included.

Vermont Marble Museum
The beutiful marble of Vermont can be found in many places, such as the Jefferson Memorial, the New York City Public Library, and the Old Senate Building in Washington, D.C.

_____________________________________________________________





Follow Us


---

| | | | |
| --- | --- | --- | --- |
| | | | |