Arkansas
25th State (June 15, 1836), deep south U.S.
State Abbreviation: AR
Capital: Little Rock
Origin of name: From the Quapaw word meaning "south wind."
Motto: Regnat Populus (The People Rule)
Nickname: The Natural State
Arkansas State Symbols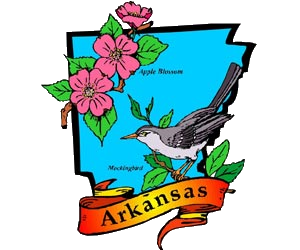 Things to Know
Arkansas changed its nickname from "Land of Opportunity" to "The Natural State" in 1995 to promote tourism. Arkansashas vast wilderness: mountains, forests, valleys, lakes, streams, wetlands, and wildlife.
Arkansas was part of the land acquired in the Louisiana Purchase.
United States Senators from Arkansas.
Famous Arkansans
Things to Do
Brainstorm
List as many words and phrases as you can that include the word diamond. For example: Baseball Diamond and Diamond Mine.
Arkansas State Bird and State Flower Printable Color Page.
Sites to See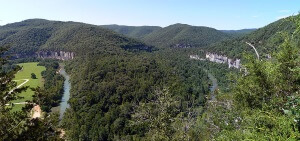 The Ozarks from the Buffalo National
River, Newton County, Arkansas