Art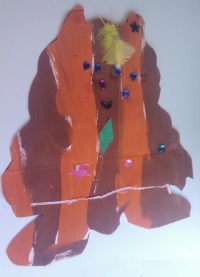 Monster Collage
Need: card stock, paint, collage and scrap materials
Add math with dice, a number line, and google eyes. One at a time children take turns rolling a die, count spots on die, then count out that number of google eyes to glue on your monster.
Mask
Print out the basic mask. Set out the scrap box, feathers, glitter, glue... Let the children decorate the mask shape. Place on your bulletin board for decoration or if you have a large plain wall place the decorated mask all over the wall.
Monster Puppet
Need: Square paper, tape, scrap papers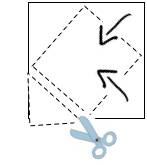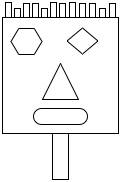 Fold each corner of a square piece of construction paper into the center. Open up one triangle and cut it off (save). Tape the other corners in the middle of the paper to make a pocket for your hand. Cut a rectangle from the cut off triangle and glue the rectangle at the bottom of the puppet to create a neck. Use scrap paper or markers to create a monster face. Cut fringes in a strip of paper for hair.
Pumpkin Heads
Need: orange construction paper, black construction paper, crayons
Cut out a variety of different size circles from the orange construction paper. Children glue the orange circles onto black construction paper. Using crayons decorate each circle differently. Make the circles into different faces, animals, fish, flowers.
Pumpkin Seed Pumpkins
Take black construction paper and cut it into half. Then on the sheets you have in white draw a pumpkin. Have the kids glue pumpkin seeds on the drawing. Then have them paint the pumpkin orange and one of the top seeds green. We hung ours up on our Halloween wall and they look really good.
Contributed by: Sara Kidd
Kidz Are Great
Day & Night Picture
Need: construction paper, crayons, black tempera paint(thinned with water), paintbrushes.
Using crayons children color a picture or design all over the construction paper. This is your day picture. Now make it a night picture. Using the black paint and a wide brush, paint the night all over the picture. The crayons will resist the paint, giving the resulting picture an interesting quality.
Rattling Skeletons
Use white paper to form 5 paper chains, and then connect to make a skeleton. Trace children's hands and feet on white paper, cut and glue to the ends of the arms, and legs. Cut an oval shape and draw on the face.
These work best when made with small groups of children. Hang around the classroom for spooky decorations!
Yellow Monsters
Create an eye-catching display with yellow monsters. It can also be a flannel activity.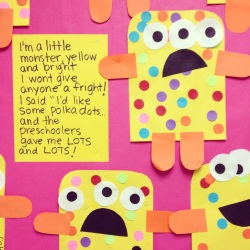 Polka Dotty Monster - Flannel
with a rhyme by Sarah
I'm a little monster yellow and bright,
I won't give anyone a fright.
I love polka dots but I have none
So step right up and give me one!
Ghostly Feet
Need: lg. sheet of dark paper, white paint, pan of water, towels
Lay the large sheet of paper on the floor. Have a pan of water and paper towels at the end of the sheet. Have child put feet in a pan of white paint. Have child first make a foot print on dark construction paper and then have the child walk on the large sheet of paper(like bulletin board paper).
When all the children have made their footprints and walked on the paper, put the paper up the wall. Make a ghost and have him say, "Who's Walking Up The Wall?" Contributed By: Ruby Wilson
Snack
Monster Mash
Need: 1/2 or /13 banana per child, 1/4 cup applesauce per child, 1 teaspoon honey per child, 1 teaspoon peanut butter per child. Topping: cinnamon, coconut or raisins.
Provide each child with a bowl and spoon. Have them mix and mash the banana, applesauce, honey, and peanut butter. Have children sprinkle the top of the Monster Mash with various toppings(cinnamon, coconut. or raisins).
Things to Do
Monster pages with dots. Roll a die and count the dots. Then color in that number of dots. Some of the dots have a number in them. Roll a die, count the dots, find and color the dot with the number.
Recommended Book
Duck & Goose, Honk! Quack! Boo! by Tad Hills
The cute charming characters, Duck and Goose, return with a Halloween adventure. The evening before Halloween Thistle arrives. She is secretive about her costume. She leaves with a warning to "beware the swamp monster." As Halloween arrives big clues show readers who the swamp monster is.
In the forest an owl in a daisy costume tells the two friends a swamp monster has been looking for them. They hear feet getting closer. The two, while hiding in a bush Goose dressed as a brave superhero puts out that it is two against one. Will they scare the swamp monster away? Gentle Halloween fun from two precious friends.
Share
Tweet
Click here to include your favorite Halloween activity in this theme!