Texas
28th State (December 29, 1845), the southwest U.S.
State Abbreviation: TX
Capital: Austin
Origin of name: From a Native American word meaning friends.
Motto: Friendship; derived from the meaning of the word "Texas." Spanish settlers adopted the word "Tejas" from a Caddo Indian word meaning "ally" or "friendship."
Nickname: Lone Star State
Texas State Symbols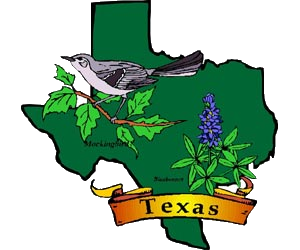 Things to Know
United States Senators from Texas.
Texas is the country's biggest producer of oil, cattle, sheep, minerals and cotton.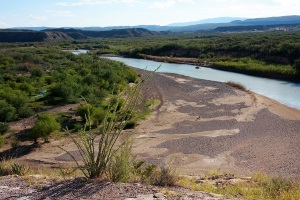 Rio Grande River
The Alamo
In San Antonio, Texas sits the ruins of an old Spanish mission. In the 1700's, Catholic prists lived atthe mission. By 1793, the mission was a fort known as the Alamo. Conflict developed between Mexico and the American settlers in Texas. A great battle took place there in 1836.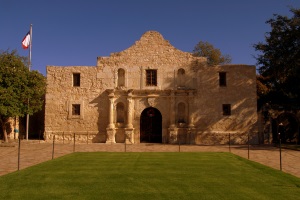 The Alamo
Armadillo Rodeo Book
Amadillo Rodeo by Jan Brett
Most armadillos are happy scratching sand and eating, but Bo longs for adventure. And adventure Bo gets, the day Harmony Jean breaks in her brand-new chili- pepper-red cowboy boots by the banks of Can Creek.