Wisconsin
30th State (May 29, 1848), the midwest U.S.
State Abbreviation: WI
Capital: Madison
Origin of name: From a Native American word for the principal river of the region, which means "gathering of the waters."
Motto: Forward
Nickname: The Badger State
Wisconsin State Symbols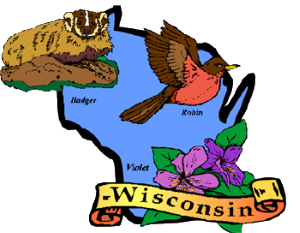 Things to Know
United States Senators from Wisconsin.
The Wisconsin area was first settled by the French. In 1763, the region was ceded to Great Britain. In 1787 it became part of the Northwest Territory.
Wisconsin has a vast agricultural sector. Wisconsin farmers rank 2nd in the United States in the production of milk and butter, and first in cheese. Because of the high production of cheese produced in Wisconsin, it has led to the nickname of "The Cheese State."
The nickname "Badger State" is not named after the animal but instead refers to the nickname given to miners in the state. In the 1800s, miners dug tunnels into hillsides searching for lead. Instead of buidling homes the miners lived in caves, reminding people of badgers. The miners described the caves as badger dens.
Major Rivers: Wisconsin River, Mississippi River
Lakes - Lake Michigan, Lake Superior
Sites to See
The Fox River is one of the few rivers in the United States that flows north.
A river will take the path of least resistance and flow downhill. This path can be south and just as likely can be north, west, or east, or any combination of directions. Rivers Only Flow Downhill